Eye Tracking Hardware for the Future
Mangold International (Germany), leader in research software and EyeTech Digital Systems (USA) are pleased to announce new hardware improvements to the VT3 mini eye tracker.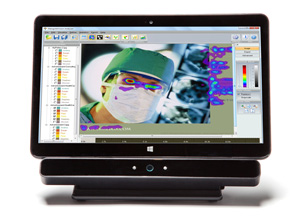 The latest edition of the VT3 mini eye tracker provides robust eye tracking in a compact module.
With its universal magnetic mount, the VT3 mini is the perfect choice for those looking for the best value in professional eye tracking.
With its large head motion box and reliable fixed data rate the compact and simple to use VT3 mini provides the high level of accuracy you've come to expect from EyeTech.

SMALLER & MORE RUGGED DESIGN - Redesigned housing is 10" long (1 inch smaller than previous model). The USB cable plugs into the back for more protection and cleaner look when mounted on laptops.
INCREASED HEAD MOTION TOLERANCE - New 10 mm lens provides a 15% increase in head motion box, allowing for higher tolerance in horizontal and vertical head movement. New IR lights now offer strobing capability for robust operation in all types of lighting conditions.

ACCURACY OUTDOORS & NEAR WINDOWS - New optical filter is integrated into the front cover to provide better tracking and block out extra ambient light. The smaller tracking indicators lights on the front reduce eye distraction.

FLEXIBLE MOUNTING OPTIONS - Same mounting hole pattern as the previous version to mount directly to your tablet or speech device. As well as our convenient magnetic mounting capability for laptop or desktop users.


Benefit form a strong Partnership!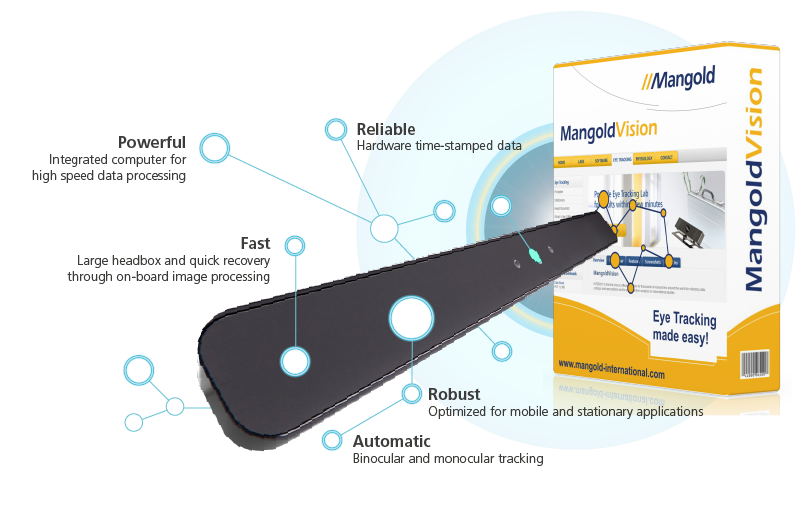 Mangold International provides the professional eye tracking research software, MangoldVision. This software combines a comprehensive tool for test design and gaze recording with analyzing and visualizing all recorded eye tracking data – all in a single solution.
MangoldVision is versatile and supports a wide range of eye tracking studies, from usability testing and consumer research, to psychology, sociology, and cognitive science. Its ease of use and its high performance make MangoldVision the first choice for eye tracking projects.
Keith Jackson, Marketing Manager at EyeTech Digital Systems affirms: "MangoldVision software and VT3 eye trackers constitute a comprehensive toolbox for a wide range of scientific research."
www.eyetechds.com

Contact us for more information >>>
Eye Tracking Hardware for the Future