Mangold EyeTracking Workshop in Taipeh
CEO Pascald Mangold held a workshop in Taiwan
Eye Tracking is an indispensable tool for usability studies. Eye Tracking – that is to say recording the gaze motion – reveals what the test person can and cannot see. By making use of eye tracking you can improve the usability of devices, software or websites or analyze the efficiency of advertisement.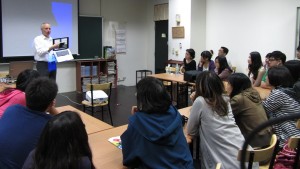 In cooperation with the local partner Pitotech Mangold International organized a workshop on "User Experience" at Hsuan Chuang University in Taipeh.The intense multi-day training focused on usability, the possibilities of behavioral research and the current status of theory and practice. Alongside the definition of the most important technical terms and various scientific methods were explained in more detail.
For instance, Pascal Mangold specified the different requirements of 2D and 3D usability studies. Attending a 2D-study the test person sits in front of a screen that shows different stimuli, e.g. websites, images or videos. A stationary Eye Tracker installed right next to the PC measures the gaze motion of the subject. In case that there should be an analysis of behavior in a real-life environment, 3D-studies with a head-mounted Eye Tracker are the suited means of choice.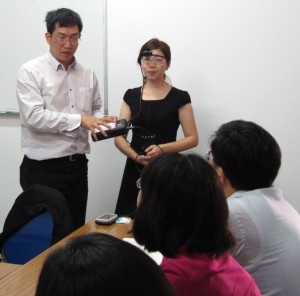 Using a specific example the theory was then tested in the field. The participants were given the task to plan and carry out a usability test. They should go to different shopping web pages, look for a particular smart phone and then put it to a benchmark test with other smart phones. With the help of Eye Tracking and screen capturing the participants' search and information behavior was recorded. After that the data was analyzed with the help of Mangold INTERACT that delivered very clear results in a quick and easy manner.
The participants were thrilled by the Mangold solutions presented. "The easy use is just great" or "There are so many ways to visualize the data" are snippets of the positive feedback. At last Mangold International CEO Pascal Mangold handed over the workshop certificates for the participants who in turn gave thanks for his "Best Performance".
Mangold EyeTracking Workshop in Taipeh