Visual Appeal of Destination Web Pages
An exploratory eye-tracking study of Generation Y, conducted with the MangoldVision eye-tracking system.
Innovation Management and Education Excellence Vision 2020:
From Regional Development Sustainability to Global Economic Growth
Authors: Gustavo Barbosa Rosa, University of São Paolo, Petr Janecek and Jan Tluchor, University of West Bohemia
Abstract
Information and Communication Technologies (ICT) have dramatically changed the provision of tourism destination information. That is the reason it is becoming critical for destination and businesses in the tourism industry to have a strong online presence. In order to achieve this goal, the proper use of online channels is crucial.
The goal becomes more difficult when considering different behavior of web page users regarding their age cohort. The article focuses on Generation Y web page users and their evaluation of selected official town destinations' web pages. (5 main tourisms
attractions in Central Europe). The focus is on visual appeal of the websites.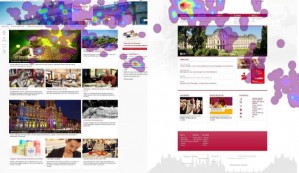 With help of a mix of qualitative research approaches, including an eye tracking study followed by questionnaires, the authors evaluate those web pages from different points of view and try to compare the results.
The authors also found several conclusions for positioning of various visual contents of the web page ...
Read the complete study, which was kindly provided from Dr. Jan Tluchor, Zapadoceska univerzita v Plzni.
Visual Appeal of Destination Web Pages