INTERACT Workflow: Create Codes from Transcripts
If you want to label your sentence-based transcriptions with specific codes dependent on particular word usage, this blog post will make your coding life a lot easier!
For those focusing on what has been said, the Mangold INTERACT workflow editor now offers a module that allows you to automatically label Events with specific Codes whenever specific words or phrases are used.
Earlier versions of Mangold INTERACT (as well as the current INTERACT Basic edition) offer a command to turn words tagged with a # into Codes, but this Workflow module puts this possibility on a totally different level!
Content-based analysis on transcriptions in Mangold INTERACT has never been easier.
How this works is now explained with the help of the demo workflow provided.
Create Codes from Transcript Demo
This simple Workflow comes pre-installed with Mangold INTERACT and is available through the menu Start - Files - Open > Demos > Workflows > Workflow: Create Codes from Transcript.
It demonstrates how to specify any number of words and phrases that are of particular interest to you and assign them to Codes in corresponding Classes..
The only precondition is that your transcribed texts are available in the Transcript field of your INTERACT document.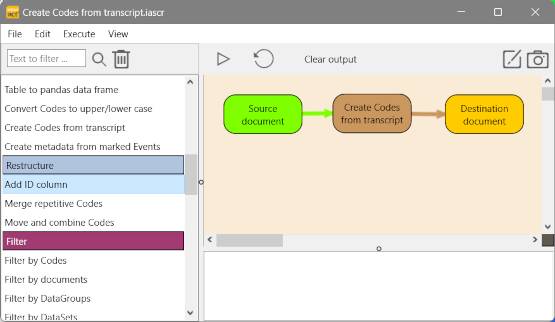 This simple but powerful workflow holds only three modules. The 'Source document' (1st) module refers to a pre-installed demo file, the 'Create Codes from transcript' module (2nd) holds the specification of all words and phrases with their assigned Codes and Classes, the results are written in a new 'Destination document' (3rd).
To look at the configuration, double-click the brownish 'Create Codes form transcript' module.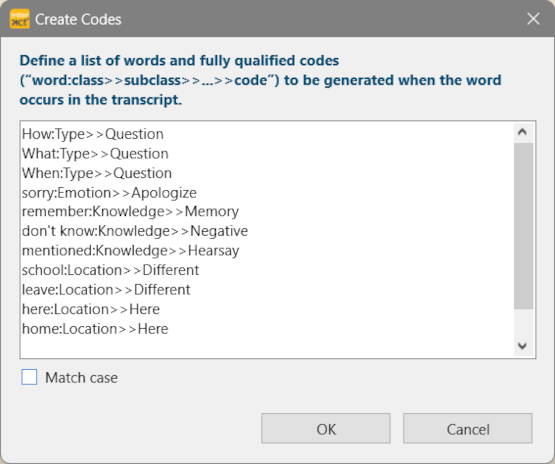 Module Syntax
The 'Create Codes from transcript' module can be configured to your needs, depending on the words and phrases that are relevant for your study.
To get the results you need, take a look at the sample definitions in this picture.
This is how you can specify your text, Class, and Codes:
'word or phrase' : 'class' >> 'Code'
In this example, whenever the words 'how', 'what' or 'when' are found in the transcript, the corresponding Event line will be labeled with the Code 'Question' in the Class column 'Type'.
If the word 'sorry' is found, those Events are labeled with the Code 'Apologize' in the Class 'Emotion', etc.
To examine the effect of this workflow on the corresponding demo file, you can run the demo workflow by clicking the little triangle right above the green 'Source document' module.
First, a detailed explanation appears, and after reading and confirming this dialog, the demo file opens, and the pre-defined classification is applied. This results in a new file with six additional Class columns for the new Codes. Those new Codes are only applied to Events holding one or more of the specified words or phrases in their transcript field.
This powerful functionality is available through an INTERACT Workflow.
"INTERACT Basic" users can install and run workflows. To create and edit workflows, an "INTERACT Professional" license or up is needed.
Contact us if you have any questions.
INTERACT Workflow: Create Codes from Transcripts