More humor, better performance
Study on humor in team meetings with Mangold INTERACT
Do you sometimes laugh in business meetings? Congratulations! In your company seems to be a climate of confidence and creativity.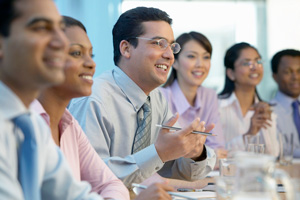 A current study examines humor patterns in team meetings and their impact on team performance.
54 real team meetings, with a total of 352 participants in German industrial organizations, were investigated.
The meetings were recorded on video, and coded and analyzed using the Mangold INTERACT software.
With the lag sequential analysis, which is integrated in INTERACT, humor patterns were identified and analyzed.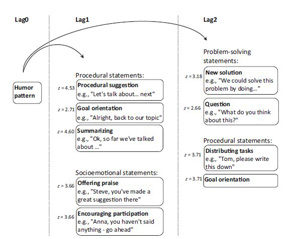 The researchers Nale Lehmann-Willenbrock, VU University Amsterdam, and Joseph A. Allen, University of Nebraska, investigated that humor has a positive impact on team performance. Humor patterns are closely connected with a positive team commitment and a climate of confidence and creativity.
Team-level results suggest that team performance was positively related to humor patterns, both immediately and long-term. Humor patterns were found to trigger positive socioemotional communication, better procedural structures, as well as new solutions and ideas.
One more important finding of the study: This doesn't count for environments with high job insecurity conditions. The level of job security is a crucial boundary condition, in order to develop a positive relation between humor and team performance.
More humor, better performance