High speed on-chip eye image data analysis is crucial for getting reliable results.
Processing the images taken by the eye tracker's camera on the computer's CPU, would create unpredictable results, because the CPU load can go up while playing computer games or using other demanding software applications. In such cases the computer would not have enough time to precisely analyze each image coming from the tracker. With the VT3 mini eye tracker the eye images are processed in high speed on the tracker itself and thus, independently of the used computer's power.
This ensures time accurate reliable gaze point analysis.

VT3 mini Eye Tracker Benefits

Reliable - Because it creates hardware time-stamped data
Powerful - Because it has an integrated computer for high-speed data processing
Robust - Because the large headbox and the quick eye detection allow the users to act naturally during tests
Automatic - Because the tracker switches between monocular and binocular tracking automatically
Multifunctional - Because the tracker is optimized for both, mobile and stationary use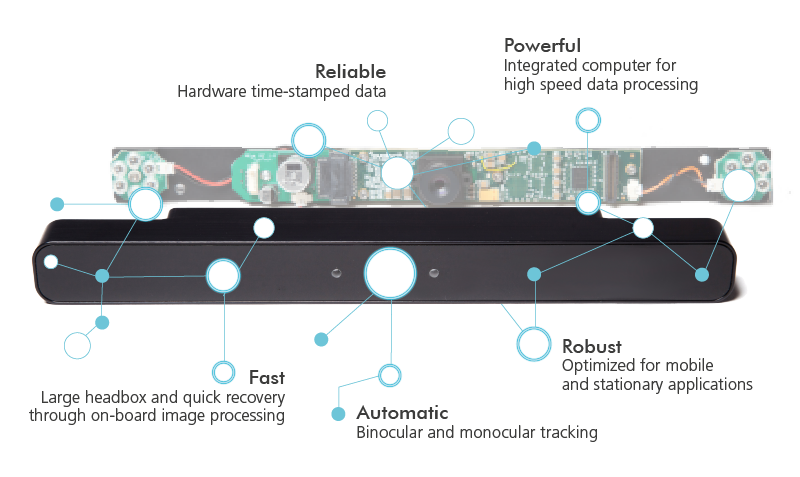 Technical Specifications

The MangoldVision software and the VT3 mini remote eye tracker are made for each other

Connection: USB 2.0 or 3.0
Speed: 40 / 60 / 120 / 200 Hz, depending on purchased model
Accuracy: approx. 0,5°, depending on overall setup
Tracking method: Dark pupil, binocular or monocular tracking
Head box W x H x D approx. at:
60Hz: 31.5 x 22.5 x 20 cm (12.4 x 8.9 x 7.9 in)
120Hz: 20 x 5 x 20 cm (7.9 x 1.9 x 7.9 in)
200Hz: 9 x 4 x 20 cm (3.5 x 1.5 x 7.9 in)
Size: approx. 25 x 2.6 x 3.2 cm (10 x 1 x 1.3 in)
Weight: approx. 0.21 kg (0.5 lbs)
Tracking distance: approx. 50 - 70 cm (19.7 – 27.6 in). For longer distance tracking custom configurations available upon request.
Monitor size: up to 56 cm (22 in) screen size. For larger screens custom configurations available upon request.
Certifications: CE and FCC
Power draw: 3 to 4 Watt
Power supply: USB