Animal Welfare has many facets
Mangold supports graduate course on methods of Farm Animal Ethology
The German Animal Welfare Act obliged to keep animals according to their nature and their needs. So, what are the needs of farm animals? Which space requirement do they have? What is the optimal size of a group? Which feeding process is the best? How do these needs come in line with the modern requirements of livestock farming? The Ethology of Farm Animals tries to find answers to these questions.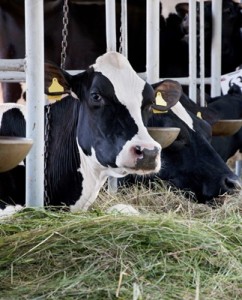 Behavioral Physiology of Farm Animals
The Institute of Animal Husbandry and Animal Breeding at the University of Hohenheim is examining different departments with methods of behavior recording, behavior physiology and genetics of farm animals.
The Department of Behavior Physiology of Farm Animals is concerned mainly with the effects of endogenous and exogenous factors on the neuro-endocrine-immune system and the behavior of farm animals. The Department of Farm Animal Ethology and small animal breeding works on genetic and environmental disruptions of poultry.
The research activities serve to understand the interactions of animals within their environment and the consequences for health, well-being, food quality and performance of animals.
Supported by Mangold International
In the fall of 2014, The Department of Behavior Physiology of Farm Animals will offer a graduate course on Methods of Farm Animal Ethology in cooperation with ethologists of the Bavarian State Research Institute for Agriculture. The goal is to further the knowledge of planning, execution and analysis of ethological issues in farm animals.
In addition, the course will perform live-observations of various farm animals and video-based analyzes on the program. The evaluation of the generated video and audio materials is carried out with professional software, such as Mangold INTERACT.
The great advantage of INTERACT is that it's easy-to-use and has a user friendly interface. Thus, the participants do not need extensive software training and can simply begin their analysis. INTERACT provides professional results quickly including numerous statistical reports and integrated export functions.
Animal Welfare has many facets