Synchronized Video Recording for Observation Labs
What is VideoSyncPro
VideoSyncPro is a software program to record multiple videos in sync, through a simple network connection.
VideoSyncPro can synchronize other equipment in your lab, assuring that video and data from other systems can be analyzed in in sync later.
The resulting video files are stored in an international standardized format, meaning they can be used for further analysis immediately, without any format conversion.
VideoSyncPro's Benefits
If you have ever tried recording different video feeds in sync, you know that this is far from easy. Especially if you want to make sure, the videos are still in sync after a long recording time.
Additionally, if other data acquisition systems should be recorded in sync to your video streams, how would you connect those devices to your cameras and recording equipment?
VideoSyncPro can do all of this:
Record various video streams in sync
Record lip-sync audio
Synchronize third party devices
Preview video and audio
Remote control cameras with the computer mouse
Examples of use for Mangold VideoSyncPro Studio
Mangold VideoSyncPro Studio in psychology and social science
Record almost any standard Audio & Video source.
Collect individually configurable marker information and comments during live recording and post review.
Stream video feeds to different locations. E.g. meeting rooms, lecture rooms or any other location used for live or post observation.
Create highlight videos based on your recorded markers for teaching, training, or feedback purpose.
Mangold VideoSyncPro Studio in education research
Mangold VideoSyncPro Studio in teaching and training.
Simply undock all video windows of VideoSyncPro Studio to display the videos through different monitors or data projectors during live recording or review/ debriefing sessions.
The marker window can also be positioned on any monitor to make entering markers as easy as possible.
Mangold VideoSyncPro Studio for medical simulation
Mangold VideoSyncPro Studio for rescue worker training
Mangold VideoSyncPro Studio - One solution for many applications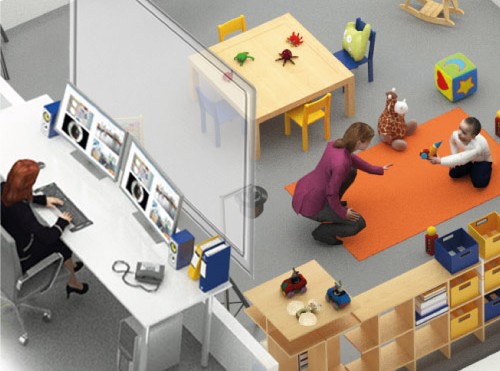 No matter if it is for Team research, Parent-Infant interaction studies, Research on adolescence, Design thinking, Problem solving, Strategic thinking, Feedback and Training, Usability Research, Medical Simulation or ... you name it ... we certainly can design a professional observation lab solution meeting your individual needs.
Just describe your project and we propose the ideal package for you.
Discuss your project needs with us