Learning from the best - Young entrepreneurs visit Mangold
Young entrepreneurs from Canada visited Mangold International as a part of an international exchange program
The leap into self-employment involves many opportunities, but there are also many challenges. Young entrepreneurs can only learn from the best, especially those amongst the most successful in their field and those who have won several awards for their sustainable success in the world market. To learn from others is a very valuable tool for future entrepreneurs.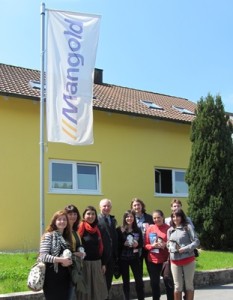 As part of an international exchange program that is intended for entrepreneurs, a group from Canada visited Mangold International in Arnstorf. These seven young entrepreneurs are working in various sectors around the Montreal region.
The visitors received an abundance of interesting information from Pascal Mangold, Founder and CEO of Mangold International GmbH. As part of a corporate presentation, he described his personal career and how his company has developed over the last decades. After starting out as a "garage company", the business is now a world market leader for equipping scientific observation labs.
Human behavior such as gestures, facial expressions and actions take place so quickly and in such a complex way that they simply cannot be detected by a live observation. This is where Mangold labs come into play, which allow structured observation through the use of easy-to-use technology. This technology is used by behavioral psychologists, market researchers and animal behavior in more than 50 countries worldwide.
Pascal Mangold gave plenty of advice from his own personal experience to the young entrepreneurs: "Love what you are doing! Be crazy – to some degree! Be unique – in your product and in your performance!" He then continued to answer different questions from the Canadians and encouraging them to take the leap into self-employment.
Learning from the best - Young entrepreneurs visit Mangold