Mangold goes South America
The success of Mangold International on the world markets is due, among other things, to the strong partner network. More than 20 partners in over 18 countries worldwide guarantee best customer service.
With the growth market of South America in focus Mangold has now realigned his strategic partnership and has strengthened the collaboration with his Mexican partner Prof. César Cisneros. An ideal partnership was formed with his company "Computación Cualitativa Consultores" to increase the services for customers in Central and South America.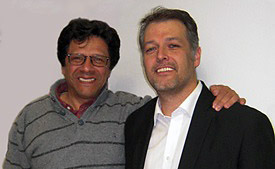 César Cisneros, Professor for Sociology at the University Iztapalapa in Mexico-City, has worked in the qualitative data analysis and behavioral research for many years and has specialized to anchor innovative software products in the South American universities.
He has years of experience and excellent contacts with research institutes and universities which are very beneficial for a long lasting partnership with this company.
Prof. Cisneros, CEO of Computación Cualitativa, personally visited the Mangold International Headquarters in Arnstorf, Germany to affirm the partnership. "The products of Mangold fit exactly in our portfolio", said Cisneros.
Reinhard Grassl, Head of Sales at Mangold International: "We are very proud being internationally so successful. In Prof. Cisneros we have found a strong partner in Mexico."
Mangold goes South America