Tool use in animals
Capuchin Monkeys cracking nuts with stones or chimpanzees catching termites with sticks. These are examples of animals that use tools inventively – mostly to tap into food sources.

The book, "Tool Use in Animals", offers the interdisciplinary insight into the topic of tool use in animals, recently published by Cambridge Publishing House.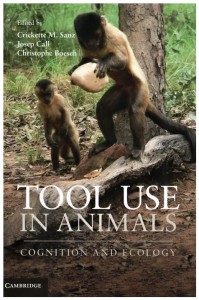 The book examines the cognitive abilities and environmental factors that have shaped the tool development and tool use in animals. What makes this book extremely special: The animals were not observed in laboratory studies, but in the wild. Thus, the publication is a fascinating read and is not only aimed at scientific readership.
"Tool Use in Animals" presents contributions from several leading authors from psychology, biology and anthropology. The editors are Dr. Crickette Sanz, anthropologist at Washington University, Dr. Josep Call, psychologist at Max-Planck-Institute and Professor Christophe Boesch, director of the Max-Planck-Instituts for Evolutionary Anthropology.
Dr. Crickette Sanz is also a member of the Mangold Scientific Council and engaged in the Goualougo Triangle Ape Project which is dedicated to research and preservation of great apes in the Congo.